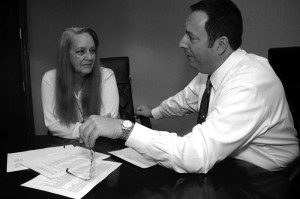 Workers' compensation is a form of insurance providing wage replacement and medical benefits to employees injured in the course of employment in exchange for mandatory relinquishment of the employee's right to sue his or her employer for the tort of negligence.
There are many different types of on-the-job injuries. The most obvious is the acute injury that results in immediate symptoms, such as a broken arm or a strained back. Not so obvious are physical injuries that can manifest themselves over time, such as repetitive trauma. Exposure to toxic substances can result in injury. Toxic substances or diseases can be ingested, inhaled, absorbed through the skin, or even exchanged through bodily fluids. Conditions such as asbestosis and peritoneal mesothelioma, chest diseases (e.g., emphysema, pneumoconiosis, silicosis, chronic bronchitis, asthma, chronic obstructive pulmonary disease, and chronic obstructive airways disease), vibration white finger, occupational deafness, and contact dermatitis, are some examples. In some instances, cardiovascular disease can be a compensable injury under workers' compensation, and first responders (police, firefighters, EMT's) may be afforded a presumption that their cardiovascular disease is work related. Treatment for conditions personal in nature can become the responsibility of workers' compensation if that condition is preventing or retarding full recovery from the underlying work-related injury.
Determining whether a condition is covered by workers' compensation can be complicated, so please contact us so that we can help you.