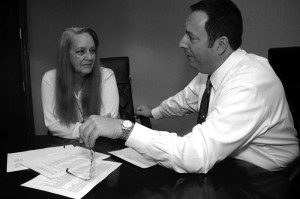 Workers' compensation is a form of insurance providing wage replacement and medical benefits to employees injured in the course of employment in exchange for mandatory relinquishment of the employee's right to sue his or her employer for the tort of negligence.
There are many different types of on-the-job injuries. The most obvious is the acute injury that results in immediate symptoms, such as a broken arm or a strained back. Not so obvious are physical injuries that can manifest themselves over time, such as repetitive trauma. Exposure to toxic substances can result in injury. Toxic substances or diseases can be ingested, inhaled, absorbed through the skin, or even exchanged through bodily fluids. Conditions such as asbestosis and peritoneal mesothelioma, chest diseases (e.g., emphysema, pneumoconiosis, silicosis, chronic bronchitis, asthma, chronic obstructive pulmonary disease, and chronic obstructive airways disease), vibration white finger, occupational deafness, and contact dermatitis, are some examples. In some instances, cardiovascular disease can be a compensable injury under workers' compensation, and first responders (police, firefighters, EMT's) may be afforded a presumption that their cardiovascular disease is work related. Treatment for conditions personal in nature can become the responsibility of workers' compensation if that condition is preventing or retarding full recovery from the underlying work-related injury.
Determining whether a condition is covered by workers' compensation can be complicated, so please contact us so that we can help you.
State and Federal laws mandate that covered employees must receive overtime pay for hours worked in excess of 40 in a workweek at a rate not less than time and one-half their regular rates of pay. There is no limit on the number of hours employees aged 16 and older may work in any workweek. The law does not require overtime pay for work on Saturdays, Sundays, holidays, or regular days of rest, as such.
The law applies on a workweek basis. An employee's workweek is a fixed and regularly recurring period of 168 hours — seven consecutive 24-hour periods. It need not coincide with the calendar week, but may begin on any day and at any hour of the day. Different workweeks may be established for different employees or groups of employees. Averaging of hours over two or more weeks is not permitted. Normally, overtime pay earned in a particular workweek must be paid on the regular pay day for the pay period in which the wages were earned.
The regular rate of pay cannot be less than the minimum wage. The regular rate includes all remuneration for employment except certain payments excluded by the law itself. Payments which are not part of the regular rate include pay for expenses incurred on the employer's behalf, premium payments for overtime work or the true premiums paid for work on Saturdays, Sundays, and holidays, discretionary bonuses, gifts and payments in the nature of gifts on special occasions, and payments for occasional periods when no work is performed due to vacation, holidays, or illness.
Earnings may be determined on a piece-rate, salary, commission, or some other basis, but in all such cases the overtime pay due must be computed on the basis of the average hourly rate derived from such earnings. This is calculated by dividing the total pay for employment (except for the statutory exclusions noted above) in any workweek by the total number of hours actually worked.
Where an employee in a single work week works at two or more different types of work for which different straight-time rates have been established, the regular rate for that week is the weighted average of such rates. That is, the earnings from all such rates are added together and this total is then divided by the total number of hours worked at all jobs. In addition, section 7(g)(2) of the FLSA allows, under specified conditions, the computation of overtime pay based on one and one-half times the hourly rate in effect when the overtime work is performed.
Determining whether an overtime or wage and hour violation has occurred can be complicated, so please call us so that we may help.
An employer may not fire, demote, harass or otherwise "retaliate" against an individual for reporting an injury at work, filing a workers' compensation claim, or participating in a workers' compensation proceeding. The concept is that employers should not retaliate or discriminate against employees for filing or receiving statutory workers' compensation benefits for compensable work-related injuries. It is not only the termination of an employee that triggers a claim. It could be any employment action that allegedly results from the employee's claim, including reduction in benefits and reassignment to a different position or location. The actual payment or denial of the underlying workers' compensation claim by the insurance company is not a pre-requisite. The threshold is whether the employee has claimed a valid work-related injury.
If you feel you have been retaliated against, please call us so we can help you.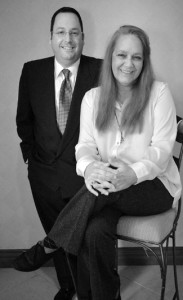 Employment Discrimination laws seek to prevent discrimination based on race, sex, religion, national origin, physical disability, and age by employers. A growing body of law also seeks to prevent employment discrimination based on sexual orientation. Discriminatory practices include bias in hiring, promotion, job assignment, termination, compensation, retaliation, and various types of harassment.
In Florida, companies with 15 or more employees are subject to the state's anti-discrimination law.
Under federal law, companies with 15 or more employees are covered by Title VII, the primary law prohibiting employment discrimination, the Americans with Disabilities Act, which prohibits discrimination on the basis of disability, and the Genetic Information Nondiscrimination Act, which prohibits discrimination based on genetic information. Companies with 20 or more employees are subject to the Age Discrimination in Employment Act (ADEA), the federal law that prohibits discrimination against employees 40 years or older. Companies with four or more employees must comply with the employment discrimination provisions of the Immigration Reform and Control Act, which prohibits discrimination on the basis of citizenship status. And all companies of any size must pay men and women equally for doing equal work, by virtue of the Equal Pay Act.
Please contact us if you feel your employer has discriminated against you. We help workers.
A claim of personal injury can be brought when an injury is the result of the negligence of another. Motor vehicle accidents, slip and fall, medical and dental malpractice, injuries resulting from defective products and medications, physical assault, and dog bites, are all examples of personal injury cases.
When someone suffers physical or emotional injury or their personal property is damaged, it is considered in law to be a "personal injury." The laws covering personal injury allow the injured person to receive compensation for damages caused by someone else's carelessness, negligence, recklessness, or intentional actions.
Injury actions have three parts: there must be a legal duty between the defendant (the one doing the wrong) and the plaintiff (the person injured); there must be a breach of that duty; and damage must occur because of that breach. When all three elements take place, a personal injury claim can be brought.
The laws of our society require all citizens not to harm others. This means that not only should people be safe from harm, but their possessions should be as well. When someone harms you or damages something that belongs to you, they may be liable under the laws governing the situation.
Liability can be caused by intentional acts or by negligence. An intentional act is one intended to cause harm or injury: the person committing the act is trying to harm you. A negligent act occurs when someone fails to take appropriate action and you are harmed as a result of that failure. For instance, if an angry person throws a brick at you, that is an intentional tort (it may also be a criminal act). On the other hand, if a careless driver runs into your car, that is a negligent act.
Another form of personal injury law covers "strict liability." Strict liability means that there is responsibility whether or not negligence was involved. This usually applies to situations that are abnormally or inherently dangerous. This concept is also found in the area of product liability. Manufacturers are charged with the responsibility of assuring that their product is safe when used as directed. If someone is injured by a product, under the terms of strict liability, they do not have to prove intent or negligence; they only need to show that harm was done and the product was defective through no fault of their own.
Once a personal injury has occurred, the defendant has a liability to pay for your injury or property. "Damages" is the term for whatever is owed to you to compensate you for your loss. Personal injury law is the mechanism for determining who is in the wrong, or in other words, who is "liable," and what the liable person should have to pay for the damage caused.
Personal injury cases can be very complex, involving questions of liability and calculation of damages. We can help. Please call us now (239) 850-9200.
Wrongful death is a claim that can be brought against a negligent party for having caused the death of another. The claim is brought in a civil action, usually by close relatives.
When someone dies due to the fault of another person or entity (like a car manufacturer), the survivors may be able to bring a wrongful death lawsuit. Such a lawsuit seeks compensation for the survivors' loss, such as lost wages from the deceased, lost companionship, and funeral expenses.
A wrongful death claim exists when a person dies due to the legal fault of another person. Wrongful death claims involve all types of fatal accidents from simple car accidents to complicated medical malpractice or product liability cases. Persons, companies, and governmental agencies can be legally at fault for acting negligently (failing to act as a reasonable person would have acted) and for acting intentionally.
A wrongful death claim must be filed by a representative on behalf of the survivors who suffer damage from the decedent's death. The representative is usually the executor of the decedent's estate.
Wrongful death lawsuits can be brought against a wide variety of persons, companies, government agencies, and employees. For example, in a car accident involving a faulty roadway and a drunk driver, a wrongful death action might include defendants such as the driver or employer at fault in the automobile accident, the designer or builder of the faulty roadway, a government agent who failed to provide adequate warnings regarding a road hazard that caused the accident, the manufacturer, distributor, or installer of a faulty or dangerous part of the vehicle, the persons who sold, served, or gave alcohol to the impaired driver, or the owner of the premises where the alcohol was served.
Because wrongful death actions often involve complex areas of the law (like medical malpractice) and can result in large damage awards, it is often wise to hire, or at least consult with, a lawyer. If you or someone you know has lost a loved one due to the negligence of another, we can help.
If a person is approved for Social Security Disability Insurance (SSDI), they will receive an ongoing monthly benefit, back payments, and Medicare (however, there is usually a wait for Medicare – see below).
The benefit amount for Social Security disability insurance is determined by a person's work history and the amount they have contributed though payroll taxes to the Social Security system.
Claimants almost always receive a certain amount in past due benefits, or, "back-pay," which is payable in a lump-sum payment. A claimant can receive back pay from the time they filed the application, plus as much as 12 months retroactive to this date. Whether a full year of back-pay is payable depends on the date of disability. The onset of disability date (when the disability is decided to have begun) determines the date of entitlement to benefits (which is five months after the onset date, due to the five-month waiting period for SSDI). Thus, if the onset date is found to be 17 months or more prior to the finding of disability entitlement, a full year's back-pay is paid. In any case, back-pay can amount to thousands of dollars simply because disability cases take so long to be decided.
Medicare benefits become available two years after the entitlement to Social Security Disability Insurance benefits has been determined. Remember, your date of entitlement is the disability onset date plus five months. For example, if a claimant is awarded disability benefits and is given an established onset date (when the disability is judged to have begun, based on a review of the medical evidence) three years prior to the awarding of benefits, then the two-year Medicare clock starts from the established onset date plus the five-month waiting period that applies to all Social Security disability cases. In many cases, since the SSA takes so long to decide cases, Medicare entitlement begins at the same time SSDI benefits are approved. In other words, you will have "served" the required two-year wait for Medicare benefits by the time you receive your first Social Security disability check.
Applications for Social Security Disability Insurance benefits can get complicated. Please let us help. It's what we do.